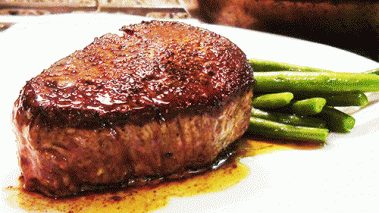 Time once again for the 52-week blogging challenge and today they want me to write about "If I could eat ONE last meal."
One last meal would have to be a steak, dry aged, cooked to perfection, mashed potatoes and gravy, spinach, and New York cheese cake with strawberry sauce topping for dessert. A nice Merlot or maybe a Cabernet Sauvignon to go with it.
When beef is dry aged, they develop better flavor than wet aged. But dry aged they lose mass so a lot of wholesalers don't want to dry age because, of course, beef is sold by the pound. I know that Ruth Chris Steak Houses dry age their steaks except for the Filet Mignon.
A good steak with a good red wine is just unbelievable.
And I love mash potatoes and gravy with lots of salt and pepper. It's almost like dessert. But it's not so we go with the cheesecake.
Spinach with a little white vinegar on it is also very good. I've always like spinach.
So that would be my last meal. Either that or a pepperoni pizza with extra sauce from Pizza Hut.
What would your last meal be? Comment below.