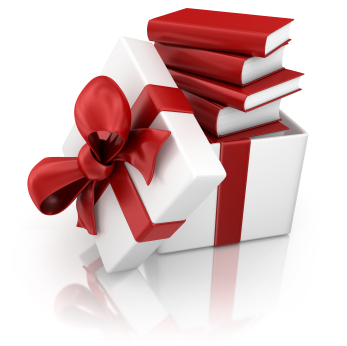 It's Christmas time again (or fill in your favorite holiday).
And if you're wondering what to give that special someone who loves to curl up with a good book, here are some suggestions:
Karin knows she's gone completely insane—nuts—absolutely batshit crazy, when she spots an insidious blue dragon twining through the trees at a rest stop in the Cascade Mountains. Despite agreeing to join her roommate at a psychic fair, she's never believed in anything metaphysical. She's pretty sure the Reiki treatment she succumbed to has brought on a frighteningly realistic hallucination—until they roll their mini-van in the middle of I-90, and she is rescued from the vehicle by the same monstrous blue figment of her imagination.
She awakens to find that she's been delivered to a cabin high in the mountains instead of to a proper hospital. The "doctor" looking out for her is more of a new-ager than a physician, and the people who own the house, including the urban highlander version of Fabio, don't have any intention of letting her leave.
Faced with the unimaginable, and strapped to an all-too-real dragon, Karin must decide how to tame the beast or risk losing herself to it forever.
Amazon reviews:
"An exceedingly well-written contemporary fantasy that will suit all fans who want something on the little bit different side." "...a fun twist on the idea of dragons."
Stranded on a primitive world, chased by drug smugglers who think she's competition, hunted by the Patrol as a criminal, pursued by the natives who think she's a demon, Dace has one hope of rescue—convince the Patrol agent trying to kill her that she's innocent. But on Dadilan, no one is innocent.
Amazon review
: "Well written, with an unpredictable plot and well-rounded characters. "
It's been twenty-five years since people started to change in the Pacific Northwest… Since the emergence of the first Valkyries. Most find it easier to pretend the problem doesn't exist. That the contagion isn't something that can touch them. Unfortunately the next to transform, and sprout wings, could be anyone.
Most of all, Jessica Reuther wants nothing more to do with Valkyries. But when a recovery team comes for her, she becomes the contested bone among the wolves. And a vicious game of tug-o-war ensues while she is forced to face a reality she prayed would never come. In the wake of her metamorphosis, a new kind of change begins to sweep through the fledgling race, one that could have devastating consequences for humanity.
Amazon reviews: "I really enjoyed this book. The characters were engaging and the plot moved quickly." "Awesome book, couldn't put it down! If I didn't know before hand would never have guessed it was a new author."
Mythica by Voss Foster
Ghosts of the past and fairies of the future. Mythical creatures and magic gone awry.
From the crash of the Hindenburg to magic-crazed visions of tomorrow, wonder runs just under the surface. Six fantasy shorts from author Voss Foster explore just how deep that magic runs. And how easily it can be exposed.
Kayla Blackstone wasn't always a slave. At one time she'd been the best bounty hunter the drifts had ever seen... before the Mage Hunters came. Before they'd stolen her life, her family, and her purpose. Before Keaton had offered her a deal she couldn't refuse.

Now she has a chance to get her life back, to start over. Her Master, Keaton, wants one more run, one more delivery. She knows better than to trust him, but she doesn't have a choice. Unfortunately, for Kayla, Keaton's deals are as deadly as they ever were.
Amazon Review
: This was different then any book i have read before. I am an avid reader , so it is hard to find books that stand out and i am pleased that this one had such a great new story line. Can't wait for the next book.
They live among us. We know they are there. No government can control them; no authority can stop them. Some are evil. Some are good. All are powerful. They inhabit our myths and fairy tales. But what if they were real, the witches, wizards, and fairy godmothers? What if they were called "adepts" and an ancient evil stalks them?
An assassination attempt on the head of the American Meta Association guild sends adept Peter Branton looking for who wants him and his leader dead. Finding the beautiful, shape-shifting assassin leads him to his real enemy, an enemy that is much worse and much more dangerous: living gods of Atlantis. Branton must team with up with his would-be killer and a mysterious warrior to defeat the gods of strife that are intent on starting a war that could devastate all mankind.
Amazon Review:
"...the story really came to life, you almost felt as if you were a part of the action."